---
If your dog has Liver Disease we want to help!
Five Leaf Pet Botanicals has been helping dogs with Liver, Kidney and Heart problems since 2002. Our approach is to use nutrition in the form of home prepared diets and herbs to help your dog become healthier and to overcome many problems. The liver is very resilient and one of the most regenerative organs of the body.
So how do we improve the liver's function and support it's recovery? First and foremost you want to avoid anything that can stress the liver. Processed dog food is one of these things. Feed fresh home prepared meals that are comprised of nutrients that are supportive of the liver but not stressful. They should contain high quality proteins and be lower in fat than conventional diets. There are recipe suggestions detailed on our Diet page.
Now that we are nourishing the whole body with fresh whole foods we can introduce herbs that will provide nutrition to help stimulate and support healthy liver function, protect liver cells and help the body focus energy where it needs to go to support the healing process.
Our Canine Liver Health Nutritional program is based on the same methods, therapies and herbal formulations used by Dr Richard Schulze and Dr John Christopher that have helped thousands of people nourish their bodies back to health. With the help of Herbalists and Veterinarians we have specified this safe and highly effective program for dogs.
The Canine Liver Health Nutritional Program helps support your dog's health by nourishing the body through herbal formulations (safe concentrated foods full of vitamins and minerals) that are given 3 to 4 times a day (see Instructions page for administration details), specialized home prepared meals (see Diet page for recipe suggestions) and working with your Veterinarian to monitor your dog's health and response to the nutritional program.
Our goal is for your dog to get healthy by supporting his system naturally.
Canine Liver Disease comes in various forms, dogs on our program have had the following conditions:
• Acute Liver Failure
• Chronic Liver Failure
• Congenital Liver Disease
• Chronic & Acute Hepatitis
• Liver Shunts
• Cirrhosis
• Fibrosis
It is important to understand what the liver's function is in order to understand how we can begin to support the body in helping it to heal.
The liver processes raw materials, manufactures the building blocks of the body, recycles the old to make new and detoxifies the industrial waste of the body. In short the liver is involved in just about every biochemical process required to run the body. The body's organs are very complex and only God knows exactly how our organs truly work. That's why there is no conventional medical cure for most diseases of the organs.
Luca is my 15 and a half year old bearded collie. I am a physical therapist and I adopted Luca when she was 8 months old from an animal shelter. She has come to work with me from the day I got her. Luca has travelled with me on holidays, climbed mountains and ran 10km races with me. She has been with me through all the ups and downs life has thrown me and needless to say has been my best friend.

She was diagnosed with a fungal liver abscess 2 years ago. For a year before this she was spiking temperatures of 40 degrees Celsius. She was put on antibiotics and she would improve. Then 2 weeks after antibiotics her symptoms would reappear. Eventually she was put on a 6 week course of antibiotics, a scan and a biopsy was done to her liver. She was diagnosed with a fungal liver abscess. The abscess was 8.5cm. Her ALT was 110 and ALP was 612. The specialist immediately suggested surgery but I was reluctant as she was already 13 years old and I had lost an older dog in surgery before. He then decided to put her on fluconozyl 200mg daily. She had been on this for 2 years.

January 2013 she had a sort of drunken/staggering episodes that only lasted 5 seconds. I rushed her to the vet but everything was normal. She had another episode a week later. The specialist redid her liver values and they could not even be registered as they were so high. He diagnosed her with hepatic encephalopathy and told me that there was not much more he can do. At this stage her ALT was 272 and ALP was greater than 2000. He did not think Luca had long to live and suggested I be thankful for everyday I have with her. My thinking was that it was the long term effect of the antifungals. I decided to stop the antifungal and in my desperation searched the internet for help. I was not ready to give up on my beautiful girl and my best friend.

The first site that caught my interest was the canine liver health site. I felt so strongly about it and it was really my only chance so I wrote to Amanda and related my story. She suggested I start the programme and change her diet immediately. I used to supplement Luca with 1000mg of salmon oil, osteoeze tablets, moducare, Echinacea tablets, sam e and milk thistle. I started on the five leaf liver programme in January and all I can say is that Luca is a miracle since starting the programme. I have stopped every other medication. She is back to jumping on the couches, going for 10 minute walks and loving the food. In the year that she has been on the five leaf meds she has been more active and interactive than when she was on the antifungals. My old healthy girl is back. she now weighs a healthy 23kg She barks at me at her feed times and still greets all the clients at work. She is the mascot at work. thank you Amanda. I plan on keeping Luca on the meds and hope to celebrate a few more birthdays with her.

Zoe Dawood
Cape Town, South Africa*

*Results shared in reviews are not typical; your results may vary.
While modern Veterinary medicine provides a wealth of irreplaceable treatments such as antibiotics and trauma surgery that we can not argue have lengthened life spans and saved many lives, they have yet to embrace the true power of nutrition. Although conventional medicine can generally effectively treat infections and manage the symptoms of some diseases with pharmaceuticals, the drugs themselves are not what heal, it is the body itself and only the body that must do the healing. Since the liver and kidneys are your pet's filtration system, drugs may add more toxins to the blood which may further stress these organs and allow the disease to progress. The only way to achieve true health is to give the right support so your dog's body can heal itself and that is where nutrition comes in.
With the support of the Canine Liver Health Program we have helped hundreds of dog owners and their pets.
The Canine Liver Health Program includes the following steps.
Special home prepared meals including Dog Greens, to ensure complete nutrition from a non synthetic, plant based, easy to digest source and to give your dog's body the right balance of nutrients to allow healing to take place. Everything that goes into your dog's mouth will go through your dog's liver so the first step in natural healing is to stop giving your dog any type of toxins (poisons). Makes sense right? Your dog's liver is damaged and the more you make it work the faster it will degenerate. We start with food. That means from now on only home prepared meals made from whole foods so you know exactly what your dog is eating. No more hidden ingredients, fillers or chemicals to make him more sick. Commercial dog food will not do, no matter the type, wet or dry, even if it says it's "Organic" or if it's prescription food from the Vet's office. It is way too processed and refined and will not provide your dog the nutrition his body needs to heal itself, – it's actually more stressful for his body. Our diet page has specific canine liver disease diet recipes that you can start preparing right away.
Pure drinking water. Good clean drinking water is almost impossible to find on earth these days unless it has been filtered. Tap water contains so many harmful chemicals it will make your dog sick, so filter it however you can, whether it's by carbon filter, reverse osmosis, distilled, etc. Anything is better than tap water. You can purchase distilled or reverse osmosis drinking water for less than $1.00 per gallon, so go get some right away.
In natural healing we support the body to allow healing to take place. We do this by using medicinal herbs as foods to nourish and detoxify the body and specific organs (in this case your dog's liver). Powerful herbs (foods) that have been shown to help the liver and protect it from future damage, herbs like Milk Thistle, Oregon grape root, Gentian root and Dandelion root to name just a few, are all amazing liver herbs that are contained in our Canine Liver Health Program's organic and wild harvested formulae.
Last but not least we use natural therapies like Hydrotherapy. This therapy utilizes alternating hot and cold water over the affected area which promotes rapid healing. This therapy has been used for centuries in Europe to heal every kind of disease. Recently in America bodybuilders and athletes have found hydrotherapy beneficial in repairing torn and injured muscles more quickly by bringing more blood, oxygen and nutrients to the affected area. We have seen hydrotherapy alone help a dog from chronic sinus infection, repair torn ligaments, rebuild heart muscle and remove lumps and bumps.
My Princess Jr. Kodi was abandoned by her mother at birth, so she had no immune system. I got her at about 5-6 weeks. I immediately fell in love with her. She soon became being called my "million dollar dog." She had so many things wrong with her. I will try to condense her story because it's quite long. She lost her back left leg at the age of 2 because of a trap! Then at the same age she got pancreatitis…my own fault, I was so uninformed, I didn't feed her pork, but, I put pork juice on her food…which sent her into pancreatitis, and she almost died, Doc said there was one antibiotic left.. as he called it, the big gun, and if it didn't work, then she wouldn't make it. One of the next things she got was sweat gland cancer, I found a lump on her front right hand, and since she only had the 3 legs I just couldn't see her trying to make it with only two legs, but…we do have it on video of her walking with the two, because when Doc did a biopsy, it was wrapped up & she won't use it if it's wrapped up! So, she walked with 2 opposite legs. We were then referred to U of I in Champaign and got radiation for a month, and after 2 yrs of checkups she got a clean bill of health. She became the Ramada mascot! Then she got Cirrhosis of the liver at the age of 16 and also was into kidney failure, she was operating on 1/2 of one kidney. My perfect Vet that loved her so much since she was born, he said to give her anything she wants to eat and that was that. I know it killed him, knowing that medicine had taken her as far as it could. Looking back I realized that he knew that she didn't have long. But of course, she's my kid, so we went out on a limb, and thank God found Amanda's website.

I cannot tell you how much she's improved, well maybe I can by saying my Vet now is giving Amanda's website to his clients. That says a lot, my Kodi's enzyme levels has made a believer out of him. This last time my Vet said, first off he wished his bloodwork was that good.Also he said that they were as close to perfect as they can get. I can tell you that it has taken her back to where she was 5 years ago. Now looking back, we see how sick she was, but we chocked it up to age. Amanda's treatments have brought her back to a "kid".

Her enzymes were as follows, her two liver enzymes right before we started the treatment were :

ALKP-1499 & ALT-off the chart too high to register

after 1 month of Amanda's treatments: ALKP-158 & ALT-148

2nd month after treatment: ALKP-129 & ALT-148

The 2 kidney enzymes:

before treatment: BUN-36 & Creatinine-1.8

1 month after treatment: BUN-34 & Creatinine-1.3

2nd month after treatment: BUN-24 & Creatinine-1.4

We love you Amanda!!! Mooshes from Kodi!!!

Shordy and all the Ramseys!

Buncombe, IL*

*Results shared in reviews are not typical; your results may vary.
Hi Amanda,

We write to thank you for your wonderful products that has been keeping our 14 years old CoCo healthy and active!

We have CoCo with us ever since she is a month old, she is part of our family and we always try our best to take good care of her. In February 2009, CoCo did not feel like eating for 2 days and had a few episodes of shivering which lasts a few secs each time, we felt worry and took her to our vet and did the urine test and blood test, and find that Na (Sodium) is low, ALP is 1350 (normal level: 20-150) and ALT is 170(normal level: 10-118), then a bunch of meds including one call "Ursosan" were prescribed, when we revisited our vet 5 days later and run the blood test again, there is no improvement on the ALT reading and the ALP is 2000!

We feel lucky that during the first visit when the vet indicated that the high ALP and ALT readings could be a sign of kidney and liver failure, we already start searching thru the internet for more information regarding canine kidney failure, and God we really glad that we had ordered a set of your "package one" after we came across your website and studied the testimonials left by other dog lovers, so when we turned to you for advice on why CoCo's ALP readings jumped off the chart after telling you what meds were being prescribed, you gave us a very valuable information that "Ursosan" may cause serious disorders of liver or renal functions!

We don't know why our vet prescribed "Ursosan" but we had then ceased all CoCo's medication and follow your program to treat CoCo with RenaCleanse/Blood Cleansing Tonic/Hepara-Cleanse, as well as feeding her with home made diet and Dog Greens, the improvement on CoCo is rather fast and significant, she becomes more active and feels like eating again!

As recommended, twice a year in the spring and the fall, we will treat CoCo one week of Rena-Cleanse & Blood Cleansing Tonic and one week of Hepara-Cleanse & Blood Cleansing Tonic for maintenance, and Dog Greens is essential for each meal, it has been 15 months now and CoCo is still healthy and happy!

Thank you again!

Love from CoCo, June and Kent Wong
Hong Kong*

*Results shared in reviews are not typical; your results may vary.
The Canine Liver Health Program is organized into 3 week cycles. To get your dog started on the program please choose a package below based on his weight. The packages include all you will need for each 3 week cycle of the liver health program. (Most will need to repeat the 3 week cycle two or three times before all is well, further instructions can be found on our Instructions page.)
With your order you will receive a copy of our Canine Liver Health Program Handbook. 
This book contains important information including:
• Detailed Program Instructions
• Daily Schedule Samples
• Dosage Chart
• Diet and Exercise Suggestions
Please visit the Instructions Page on this site for dosage and administration information.
We are available for support or questions on our toll free line from 10 a.m. to 5 p.m. EST Monday through Friday or by email 24 hours a day.
It is essential to work with your Veterinarian to monitor your dog's recovery.
If you ask the right questions, your Veterinarian can be a wealth of knowledge. Try to educate yourself on the stages and symptoms of canine liver disease. Symptoms of this disease can be varied and wide spread. The more you know the better prepared you will be to manage your dog's situation.
Your vet can run blood work once you have completed the first 3 week cycle and this will tell you if you need to repeat additional cycles. If your dog's values are back in normal range continuing with a healthy lifestyle including home prepared whole food meals, filtered drinking water, regular exercise and semi-annual cleansing should be just the support he needs to stay happy and healthy.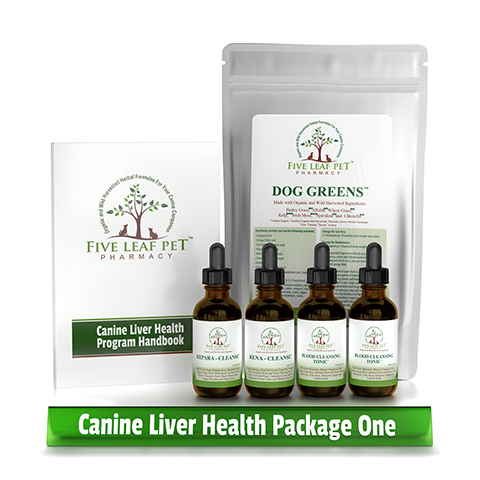 Click Here To Choose Your Package